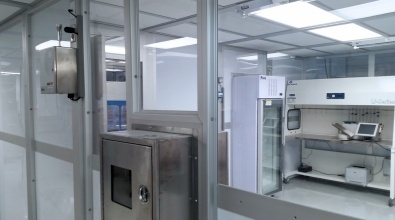 USP797 Modular Cleanroom Systems
Portable Cleanroom Systems Engineered to be Modular - When your needs expand, so does the cleanroom!
USP797 Enclosure System with ACT!

Isolation and environmental control has taken a huge step forward for the medical device and pharmaceutical industries, thanks to this innovation.
Can be fitted for wall panel inserts of ABS, polycarbonate, aluminum composite, acrylic, tempered glass or other materials.
Easy-to-clean features are ideal for USP <797> applications for pharmaceutical compounding and medical device manufacturing, assembly and packaging applications.
Suitable for ISO Class 8 (Class 100,000) applications to Class 4 (Class 10).
Order the USP797 modular cleanroom with the integrated ceiling system in factory assembled modules for fast and simple construction.
All assembly hardware is accessed from the outside and sealed for a professional look.
Can be designed as a single-pass cleanroom, or as a re-circulating design with air-chase walls and ceiling plenum.
Pre-fabricated as a piece of equipment this unit is 100% relocatable and expandable.
The insert that is flush with the frame, making the assembled wall easy to keep clean!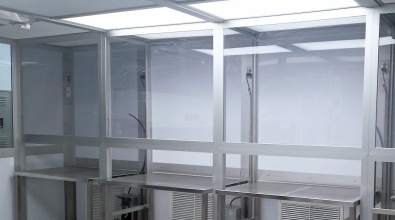 The USP797 Enclosure System with ACT (Active Channel Technology) allows you to adjust the insert channel of the SIS frame for different sizes of solid inserts from 1/8" to 3/8".
Active Channel Technology is a two-piece frame that allows the end user to vary the thickness of the insert material from 1/8" to 3/8". Use a wide variety of insert materials including ABS, polycarbonate, aluminum composite, acrylic, or even tempered glass.
We offer complete solutions for your compounding needs including:
Flush mounted receptacles
Pre-wired filters and lights
Magnehelic gauges
Hand washing stations
ISO 5 laminar flow hoods
Biological Safety Hoods
Reverse Flow filtration
Germicidal filtration & lighting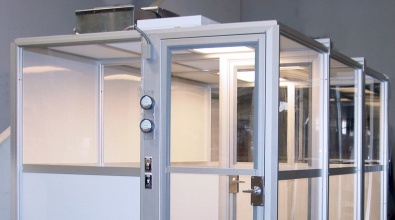 Cost Effective Solutions
Built-in ISO 5 Laminar Flow hoods are a cost-effective way to take advantage of your new modular cleanroom space. By utilizing the ceiling system and filtration from your new cleanroom system, you can build in a larger workspace for compounding sterile products inside an ISO 5 environment. Perforated down flow tables and built-in product station dividers offers maximum flexibility.
Integrated cleanroom systems:
We have designed our systems to be modular So they expand when your needs expand. Recent changes to USP-800 hazardous drug compounding requirements have led to isolation rooms within the USP-797 compounding areas.
USP-800 areas must be negative to their surrounding environment. Along with a BSC cabinet, the USP-800 areas must have a minimum of 30 Air changes per hour.
Contact us for a No-obligation quote on your next cleanroom project!